Nothing caps off the holidays quite like powdery turns on a snowy mountainscape followed by hot chocolate and a crackling fireplace, and Breckenridge is one of North America's favorite family-getaways during the holiday season. There's just one proviso, Breckenridge is one of the world's most popular ski resorts and the entire world has vacation time from about Dec. 20 through January 2. For the skier or snowboarder who waits to plan their Breck Christmas ski vacation, this means that they'll have trouble pinning down ideally situated accommodations, and they'll have to spend time commuting to the slopes and parking when they could be skiing.

As 40-plus-year ski travel veterans, our Destination Experts have had to give the unfortunate news to late bookers year after year that their preferred Breckenridge accommodations are not available. To save you from disappointment and high-holiday prices, we recommend to book your dream Christmas vacation early. When we say early we don't mean a couple weeks out, we mean months in advance. Here are a few reasons why booking extra early for Christmas is in your best interest: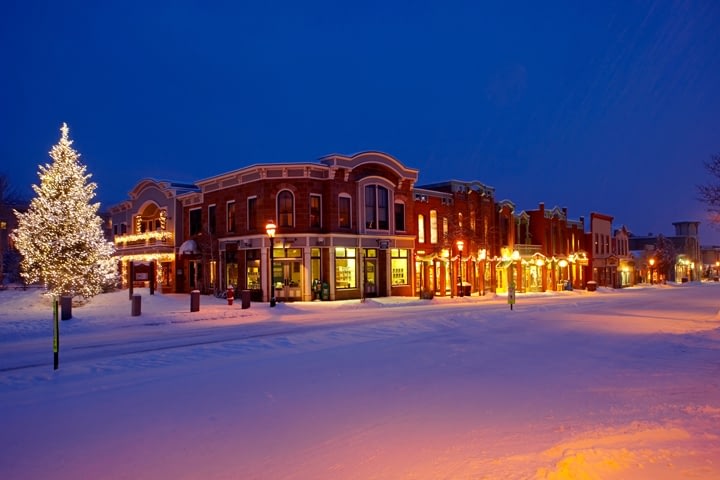 1. Preferred accommodations
Where you stay can make or break your vacation, and each group traveling during the holidays has different needs when it comes to accommodation amenities. Most Christmastime lodging is booked up in October, and even further in advance for repeat guests, so you'll need to plan ahead to ensure you get the space you need and location you want. Families that are looking to have it all and stay slopeside will love Beaver Run, a multi-unit resort with eight hot tubs, two indoor pools, a sauna/steam room and exercise room just steps from the base of Peak 9. Those looking for luxury will enjoy One Ski Hill Place, Crystal Peak Lodge and the Grand Timber Lodge. These three lodges are all ski in, ski out and come with fine amenities and top-notch service.
2. Discounted lift tickets
A lift ticket for Breckenridge brings you to the highest chairlift in the U.S. and provides over 2,900 skiable acres of diverse terrain. Make your dollar go even further during the Christmas season by bundling your lift tickets with your discounted lodging. Simply add your discounted lift tickets to your package after choosing your holiday-season accommodations. If you plan on skiing at least five days, opt for the Epic Pass and save 40% compared to basic lift tickets and get access to top North American ski resorts
3. Dinner reservations
The winter activities may be the reason you travel to Breckenridge, but we'd be lying if we said food wasn't a crucial component of any vacation. In order to truly experience the best of Breckenridge's dining, you need to make reservations at most restaurants you want to experience. Fan-favorites like Hearthstone, Ember and Relish aren't secrets, and you can bet that everyone is going to want to sample their award-winning cuisines during Christmas celebrations. Make life easy and book your reservations early to keep your families—and palates—happy. If you plan to visit restaurants that don't take reservations, adjust your mealtimes to be a little earlier or later than usual to avoid heavy crowds.
4. Less stress and more savings for you
This may seem like a no-brainer, but planning your vacations early is a surefire way to avoid stress. We've all been there, done that when it comes to spending hours in front of a screen just days before arrival, trying to find those perfect activities and events, only to give up as the time-crunch weighs heavily on our backs. Enjoy the early snippets of holiday season with your mind at ease, knowing your Christmas getaway is ready to go.

Last but not least, don't forget to purchase travel insurance at check-out! Weather can be unpredictable during December, and it's always better to be safe than sorry. For help planning your perfect Christmas vacation in Breckenridge, speak with our Destination Experts at 866-343-9469.