By Allison Cohn
Not everyone loves to ski, but that doesn't mean you can't still love a mountain getaway. At some resorts, you're restricted to mountain, the hot tub and the village area—but the Town of Breckenridge has oh-so much more to offer. Sure, Breck boasts nearly 3,000 skiable acres with miles and miles of trails spanning across five mountain peaks. But the town itself is also home to a slew of bars, eateries, locally owned and operated shops and all sorts of interesting and entertaining things to do. So forget about skiing for a minute (unless it's a powder day, then maybe you ought to just go skiing!), and try out something different, something uniquely Breckenridge.
Be a Total Tourist at the O2 Lounge Oxygen Bar

Photo: Courtesy of The O2 Lounge's Facebook page
You won't find any locals milling about the O2 Lounge, as this is an undeniably touristy thing to do. But, hey, oxygen intake will help you to acclimatize to the high altitude climate. (Plus, it's a great cure for a hangover.) The Town of Breckenridge is located at 9,600 feet elevation and sometimes visitors tend to get altitude sickness, which—aside from being a total bummer—can cause fatigue, shortness of breath, headaches, nausea and trouble sleeping. "Ain't nobody got time for that." Oxygen sessions are available for 15, 30 and 45 minutes (for $12, $20 and $25 respectively) and aromatherapy options are available for an additional fee. O2 is also a coffee shop with a full espresso bar and healthy "Dr. Smoothie" smoothies.
Get A High-Altitude Buzz at Breck Distillery & Breck Brewery
Photo: Courtesy of Breckenridge Distillery's Facebook page
Breck Distillery is proudly the world's highest, offering free public tours every half hour and tastings from 11 a.m. through 9 p.m. daily. Private "after hours" tours are available for small groups, as well. Their wide assortment of "award winning hooch" is all made from pure Rocky Mountain snowmelt, pressed fruits from the Western Slope and locally sourced ingredients whenever possible.
Breck Brewery has been serving beers to locals on South Main Street since 1990—making it the third oldest craft brewery in the state. Their daily happy hour runs from 3 p.m. to 6 p.m, giving you the perfect opportunity to try one (or several) of their rotating taps, from beloved staples like the Vanilla Porter or Oatmeal Stout to something more exotic, like a seasonal ale or limited edition small batch brew.
Cross-Country Ski or Showshoe at Breck Nordic Center (or On A Self Guided Tour)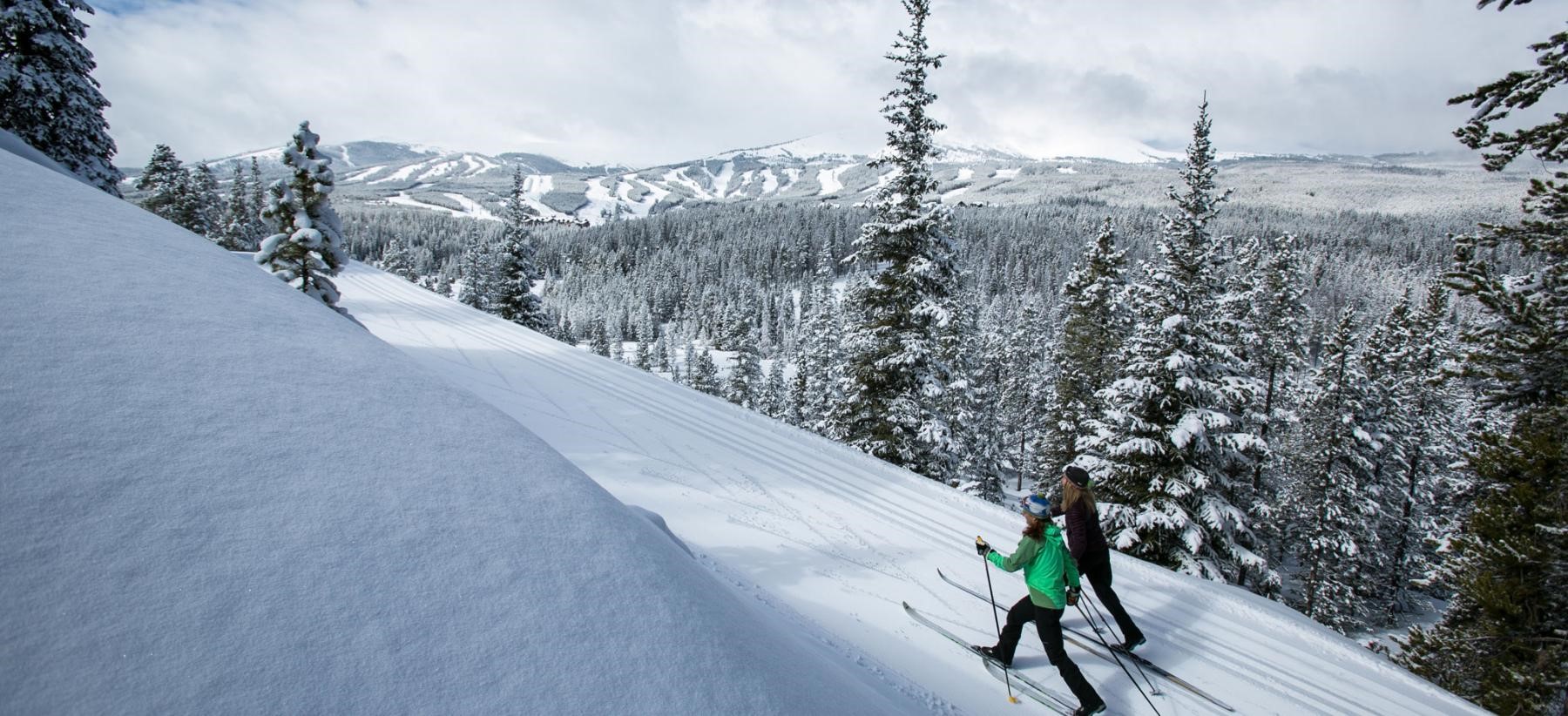 The Scandinavians invented cross-country skiing literally forever ago as a utilitarian way to travel through the snow (tax collectors were perhaps the first to practically utilize cross country skis), and the sport has since evolved into a relaxing way to enjoy the snow, floating across the ground in a much less dangerous manner than alpine skiing—plus, you don't need to hike or use ski lifts. Breckenridge has two Nordic centers, Gold Run Nordic Center and Breckenridge Nordic Ski & Snowshoe Adventure Center (both are dog friendly!), with over thirty miles of manicured trails between them. There is also a vast Breckenridge trail system (used for hiking and biking during the summer) that weaves through old mining ruins. Trail maps are available at the Breckenridge Welcome Center at 203 S. Main Street and you can rent all the gear you need at either Nordic Center.
Solve A Real Life Puzzle at Escape Room Breckenridge Just because you're on vacation doesn't mean you shouldn't give your brain a little workout. Get your riddle on at Escape Room Breckenridge. Gather a group of 2-8 people and set aside an hour (and $28 per person). You're about to embark on a live escape game, where you'll be locked in a room together and have to crack the code using a handful of clues to "escape." (Note: You're not actually locked in the room and you can leave whenever you want, but it's more interesting if you pretend a little.) Breck's Escape Room has several different game options of varying difficulty levels, including a Secret Agent Room, The Hollywood Room and Captain Steelhook's Treasure Room. Each room tells its own story, each with a unique riddle to solve. Escape Rooms are a super fun team building activity, perfect for families of all ages and are even more entertaining if you've already visited Breck Distillery or Brewery.
Get Creeped Out at a Haunted Tour of Breckenridge
Photo: Courtesy of the Breckenridge Heritage Alliance Facebook page
If the paranormal gets your adrenaline pumping more so than backcountry glade runs, you'll love a haunted tour of Breckenridge. There are a few options for haunted tours, each detailing the rich history of the old mining town turned ski mecca. They might be hokey (or terrifying?), but you'll definitely come away with some curious historical tidbits and factoids that you otherwise would've glossed over while blazing down the hill. Breck Ghost Tours offers a few spooky options, ranging from "Ghost Tales" and "Voices From The Grave" to "Strange But True," which divulges actual stories of local disappearances, kidnappings and bizarre tales. The Breck Heritage Alliance also gives ghost tours that take you to restored Victorian houses, allegedly home to spirits leftover from the long lost days of the Wild West.
Find Your Moment of Zen at a Local Yoga Studio or Spas
Photo: Courtsey of Meta Yoga Studio's Facebook page
Focus your breath and stretch out your weary muscles at Meta Yoga Studio or Spheeris Pilates, both located just off of Main Street. You can buy weekly passes to Meta Yoga Studios (or pay the drop-in rate), which is convenient if you'll be in town for a few days or a long weekend. They offer classes of all levels, including hot yoga (ideal for those freezing days), and also provide mats and props—plus the view of the mountains from their studio doesn't suck. Their classes are perfect for restoring your aching muscles from skiing… or just yoga-ing instead of skiing.
There are also a handful of luxurious spas and massage studios throughout town, including The Spa at Breckenridge, located at the base of the Snowflake Chairlift. It's ski in/ski out facilities include indoor and outdoor pools, steam rooms, a fitness center and stunning alpine ambience (plus lots of local artists' pieces adorning the walls). The Spa at Breckenridge is the perfect place to pamper yourself with a hot stone massage and a facial—and still meet up with the crew for apres ski drinks afterwards.
---
About the Author, Allison Cohn
Allison Cohn loves gold spray paint and nonsense. She also has a very difficult time sitting still and keeping quiet. She can often be found dancing like a fool when she isn't hiding out in her mountain lair or gallivanting around the globe.