By Samantha Arnold

Photo: Vail Resorts
Breckenridge is renowned for being one of the best family-friendly ski resorts in the Rockies. With a summit elevation of nearly 13,000 feet, Breck offers a variety of terrain and is a common destination for skiers of all ability types. When visiting this highly sought after destination, it's important to know how to stay on budget to ensure you have an unforgettable ski vacation. To help you achieve this, we have asked our experienced Destination Experts to collect some great money-saving tips for an amazing Breckenridge ski vacation.
Split Lodging Costs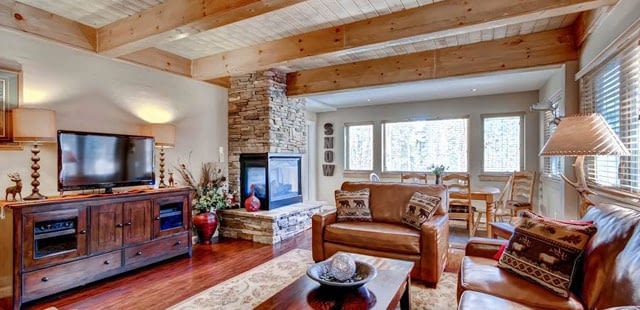 Photo: Snodallion Condominiums
Lodging in any ski town isn't considered cheap. Fortunately, there are ways you can avoid breaking the bank. If you are traveling with friends or family, renting a condo is often the most affordable option, when you split the lodging costs among the group and opt to eat in.
Here are some Ski.com condo recommendations in Breckenridge:
Pine Ridge Condominiums: These condos offer an amazing après-ski experience being just 1.5 blocks from Main Street in downtown Breck. They also offer easy slope access being only 1.5 blocks from the Snowflake Chairlift. The condos themselves are spacious with plenty of bedrooms, fully equipped kitchens, washers and dryers and balconies with stunning views. With ski storage and an outdoor hot tub, you can avoid the hassle and relax with some incredible views of the mountain.
River Mountain Lodge: These condos provide guests with a unique European-style charm and ski-in access. Located directly across the street from Breckenridge's infamous Four O'clock run, you can easily catch a chair up the mountain during prime ski hours. This unique accommodation offers a variety of lodging options, including hotel rooms as well as one-, two-, three- and four-bedroom condos equipped with kitchens. With onsite bars, lounges and hot tubs, you can create an amazing vacation experience.
Plan your travel carefully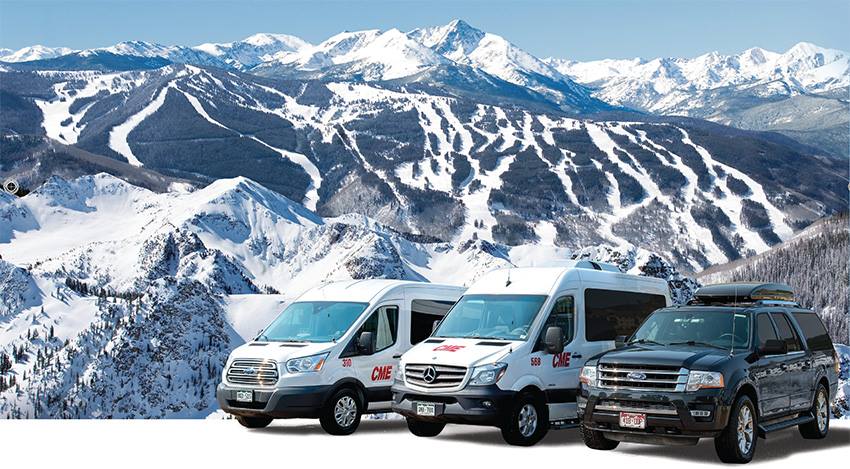 Photo: Colorado Mountain Express
Because Breckenridge is nestled in the Rocky Mountains, it can be difficult to get to. That's why when you are planning your trip, it's important to look at every travel option that can ultimately help you save money, including:
Fly Eagle County Regional Airport: By flying into Eagle County Regional Airport, you can save time and costs associated with renting a car to drive through the mountains. ECRA is about an hour and 25 minutes from Breckenridge, which means you get to hit the slopes sooner!
Shuttle services from DIA: There are a host of skier shuttle companies (Colorado Mountain Express, B Line Express and Breck Direct Express are recommended options). This can be a great money saving option when compared to the cost of a car rental. Unless, you're staying in a condo or home off the beaten path, you really don't need a rental car in Breck.
Free booking services like Breckenridge Destinations: At Breckenridge Destinations, we have experienced and dedicated Destination Experts that are here to help you plan your perfect ski vacation. Because we have strong relationships with domestic and international ski resorts, we can work with your budget to get you the most bang for your buck!
Avoid baggage fees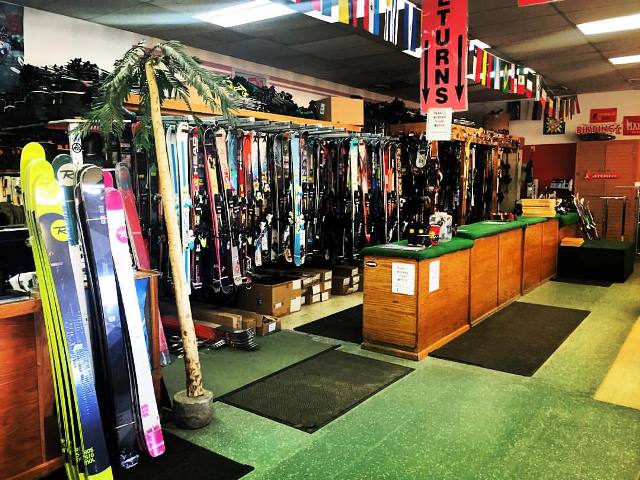 Photo: Base Mountain Sports
Let's face it: checking your ski gear when you are going on a ski vacation can get pricey. Fortunately, there are ways you can avoid hefty baggage fees and still get an incredible experience.
Find lift ticket and rental package deals: Typically a deal available to children 12 and under, this will help families save big, especially families with several young children, on checked bag fees. Ask a Destination Expert about available children's lift ticket and equipment rentals deals.

For those who can't bear the thought of being separated from their skis or board on their trip, new shipping services, like our partner Ship Skis, make it possible to have your cake and eat it, too. For a price less than most airlines and UPS charge, you can ship your skis/snowboard to your final destination and back to your home. No hauling required. - See more at: http://www.telluridereservations.com/blog/post/5-tips-for-saving-money-at-telluride#sthash.VkTCHOFf.dpuf
Eat and drink like a local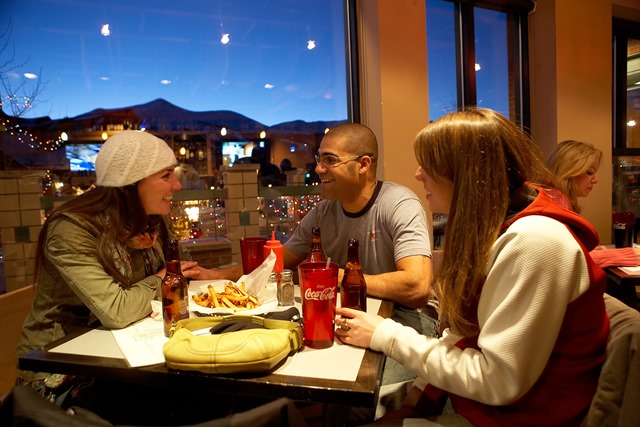 Photo: Vail Resorts
Knowing where to dine is an important aspect of any ski vacation. Not only does it allow you to see the town, but all the culture the destination has to offer. You don't have to spend a small fortune in order to experience the local food and drink favorites. Downtown Breckenridge has an assortment of restaurants and bars to fulfill any appetite and après-ski agenda. Here are some Ski.com recommendations for you and your family:
Hearthstone Restaurant: This restaurant offers one of the best fine-dining experiences in Breckenridge. They also offer a happy hour menu with cocktails and delicious food items.
Relish: With beautiful mountain views, this eatery utilizes seasonal and local foods that are sure to inspire any palette.
The Motherloaded Tavern: This tavern offers an eclectic menu, various cocktails and a fun atmosphere perfect for families and anyone looking for a unique après ski experience.
Fatty's Pizzeria: If you're looking for a bit of history, in the 19th century this restaurant was originally a boarding house. Now, Fatty's Pizzeria offers delicious pizza and other Italian eats.
Kenosha: This casual steakhouse offers house-smoked BBQ, perfectly paired craft beers and a great après-ski atmosphere.
Find free (or cheap) events in town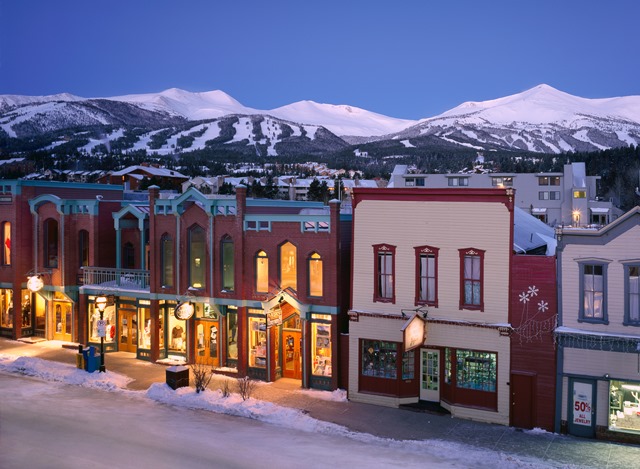 Photo: Vail Resorts
When you need a day off from the slopes, hitting the town for some fun events is a great way to relax and experience Breckenridge in a different way. Fortunately, we've done the work for you. Here are some awesome events coming up in Breckenridge that will be sure to help you save money all while creating a memorable ski vacation:
Historic Tours and Free Museums: December 31, 2016 and other dates throughout the year. This includes a walking tour of historic downtown Breckenridge.
New Year's Eve, Breckenridge-style: Ring in the New Year with parades, fireworks and fun! There is a kid's parade to begin the festivities, followed by another parade and fireworks at 9 p.m.
Ullr Fest: Typically held mid-January, Ullr Fest is a celebration unique to Breckenridge in which locals and visitors alike celebrate the Nordic God Ullr, god of snow. Skiers don Viking hats and pray for snow. You'll find fun snow-related activities in Breck throughout the week.
No matter what your budget is, taking a ski vacation to experience Breckenridge and the Rocky Mountains is never out of reach. Our Destination Experts can help you create the vacation of a lifetime. We will put our knowledge and resort relationships to work so you and your family can enjoy the best of Breckenridge and still stay within budget.